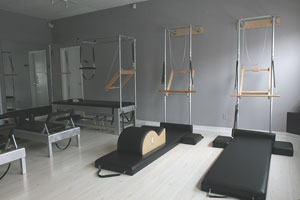 Private Sessions:
We offer one-on-one private sessions that last 55 minutes. All sessions include work performed on the equipment as well as the mat.
Duets:
Two people work out side-by-side performing the same exercises. Both people need to be at a similar skill level as well as have a working knowledge of the Pilates exercises.

All lessons are by appointment only.
Please contact the studio at (415) 292-4900.

Mat Class Schedule:

Saturday at 9am
Working knowledge of the Pilates mat sequence is a must.

Please call (415) 292-4900 or email info@sfpilatesworks.com to sign up. Classes will be held on a monthly basis and will accommodate 6 people. Payment for mat classes will be made for the entire month to ensure the continuation and consistency of the class.


Prices:
$90-Private
$60-Duet
$850-package of 10 privates
$550-package of 10 duets
$35-Mat Class (Mat classes must be paid for the entire month)
Refunds unavailable on unused classes.